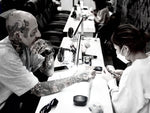 Photos by Dave Nettle - instore exhibition
During the month of August the Kennedy Parker store is hosting a photographic exhibition as part of the SALA Festival (South Australian Living Artists). We're showing the incredible work of Dave Nettle, a collection of photographs of the city of Adelaide and the people within it.
After a career as a scientist and geologist, Dave Nettle found himself in an unexpected place in life in 2020 - battling a brain injury after surgery to remove a tumour. This surreal experience caused him to reflect on his mental health and that of those around him, themes that are reflected in his "Not Alone" photographic exhibition as part of the SALA Festival.
"It was shocking to realise that my mental health post-recovery was better than before my diagnosis." David said.
"I felt more connected to myself and those around me than I did before, and it made think a lot about mental health and how we need to talk about it more."
Dave's street photography depicts human life in an urban landscape and explores the isolation we can feel, even while sharing city spaces.
"Through the camera lens I really see people and I want to express ideas about the city spaces we share and how we connect with each other".
Dave now spends his time volunteering with homeless organisations, in addition to capturing images of people on the streets of Adelaide.
"To me, those activities have a common link, promoting the value of mental health in my own personal way".
His SALA exhibition will be held at the Kennedy Parker store. The space is decorated in a minimalist contemporary aesthetic within the traditional 1880s building which has high ceilings and huge light-filled windows - a perfect fit for Dave's urban imagery.
Jayne-Anne Power, KP owner, became friends with David in 2017. "I jumped at the chance for us to work together on this exhibition and host it in my store,"
"The philosophy behind my business is about elevating the way men feel, and for every visitor to the store to feel great about themselves,"
"The mental health and connection themes in Dave's work, plus his personal resilience in the face of huge challenges, that's something I want to support."
Dave is a finalist in the Don Dunstan Award for this exhibition.
Visit the store during the month of August 2023, or view his work online here.