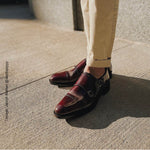 So, we're leaving the house again now
Not everyone is jumping off the couch, eager to get dressed up and back into a social life after lockdowns. But with few restrictions on guest numbers, those postponed events are now a reality. Here are some inspirational looks to help you ditch the socks and slides and get excited about dressing up again.
COLOUR
Neutrals have their place, but runways the world over are offering a fresh take on colourful dressing for men. Follow suit with a coloured shoe, or let a colourful outfit do the talking by pairing it back with classic black footwear.
Simu Liu in Atelier Versace.  Image Momodu Mansaray/Getty Images
Wear it with Bellamy loafer in Onyx
Or for some colour, try the Jaymey Monk Strap shoe in glowing Garnet
EMBRACE THE CLASSICS
Might feel overly dressy compared to months of soft (or no) pants, but there's a reason the tux is a classic. Step up to the formality of it and enjoy the movie star feeling. In our opinion, there's no such thing as being too dressed up. If people are staring at you, it's because you look awesome.
Jacob Elordi in Burberry. Image: Momodu Mansaray/Getty Images
Wear with Chaise leather soled Oxford
MONOCHROME
It's impossible to go wrong with all black. Make sure your fit is impeccable, including pant and sleeve lengths, and it's always worth a visit to a tailor to get that next level of finish. Then the monochrome vibe will do all the talking.
Jack Harlow in Givenchy.
Try the Jaymes Chelsea boot for a modern, chic finish.
MIX BLACK & NAVY
Far from the sartorial sin it used to be, combining black and navy gives a subtle elegant finish.  
Jason Momoa. Image David Livingston / Getty images
Wear with Halsey rubber soled Oxford
SLIPPERS 
Not the comfy home type - the chic version, can really give an outfit an air of relaxed sophistication.
Anthony Mackie. Image Lester Cohen / Getty Images
Try the Daverson leather tassel Loafer.
TEXTURES
If you want something beyond your usual black, try velvet, satin or jacquard pieces which can add texture and interest to a classic silhouette.
John Legend. Image Brian Freedman for Variety.
Use suede to add texture to an outfit, try the Bellamy Loafer in Anthracite.
So accept that wedding invitation, dress up, and go drink with other people for a change.