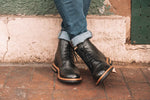 The Brogue. Wear a piece of history.
All eyes gravitate straight to the feet when a man wears brogue boots. Cuffed pants perfectly frame these decorative shoes. White tee. Denim jeans. Black brogue boots. It's a timeless look that draws all the attention to the shoes. It's hard to believe these stunning boots came from working-class roots… until you step into a pair and the comfort envelops you.
Brogue boots first appeared in the farm fields of Scotland and Ireland (Kennedy Parker heartland) at the turn of the 19th century. In untanned leather, they were designed as a utility, with small holes in the uppers to help drain water and mud out of the farmer's boots. With its soft footbed, rubber outersole and grips, the brogue boots supported the feet during physically taxing work.
From rags to riches…
Over the decades, brogue boots stepped up from country working class to high-fashion wear. Boot lovers owe the transition to the 1920's jazz era, when the two-toned brogue started to draw attention.
It was symbolic of a revolution, the time period, with sturdy, multi-piece leather uppers with decorative perforations and serration along the edges. Musicians were tapping away on stage and audiences took notice… of their shoes.
By the 1930s, brogues took a different direction, being embraced by the golf industry. And in the 1950's, the boot hit showbusiness when Elvis wore classic black and white brogues singing Jailhouse Rock. This boot has been a fashion centrepiece for feet ever since.
Today, it's the go-to boot for both men and women – utilised in classic Oxford, Derby, Chukka, Monk, and Chelsea styles. Brogue and Wingtip are terms used interchangeably to describe this timeless boot. That distinctive perforation is still used on brogues, but for looks only. The 'pinked', or serrated, edging is the defining signature of the modern brogue design. 
While undeniably classic, brogues aren't worn as formal wear, but rather, considered country tweed style. Maybe it'll swing back to its hardworking heritage. Fashion is never static. If it does, those will be the most stylish farmers to ever walk this earth.
Stunning Licorice brogue boots.  Get your shoes right, everything goes.
The Trentin Brogue boot and the Gatsby Brogue shoe in glossy Licorice leather are our expressions of this iconic style. Expertly crafted, enjoy everyday luxury and comfort, with shoes that always bring your outfit together.
Pull on these boots with country wear, chinos or jeans, cuffed or fitted. And woah, do these bad boys mean business. They're described as 'Goodyear' welted construction boots and with good reason. Step into durability, longevity and a quality you've never experienced before. With proper care, your Kennedy Parker Brogues will last a lifetime (and many trends).
Brogues bring style and a colourful story to streetwear. Step into a pair of brogues and you'll feel that time, those trends, and today. Generations of 'cool' coming through and an outfit that can't be emulated… because you're part of the story now, too.
As you wear your brogues, think about the farmers, the jazz era, the famous dance moves of Elvis, golfers, runways, and the people who made have defined the boot.
Be part of history. Dress the new chapter of the brogue.
This shoe has soul.
Image from thesunglassman.com